On August 25, 2020, Columbiana Schools welcomed students for the start of the 2020-2021 school year. Click here to see a video from the first day of school.
New health and safety measures are in place for students and staff.
Daily Temperature Check
Thermal imaging technology will take the temperature of everyone who enters a school building. An individual's temperature appears on the screen with a "green light" indicating he or she is good to go. The device also recognizes if someone isn't wearing a mask. If a person does have a temperature of 100 or above, a red warning will appear with the message "Stop, do not enter." When a red warning occurs, an individual will go directly to a designated room to see the nurse.
Touchless Hand Washing Stations
Each building has a touchless hand washing station. Each station has four sinks, soap and paper towels. The entire setup is touchless, and each station can do around 740 hand washes an hour. Students will use the hand washing stations in the morning, before and after lunch and at the end of the school day.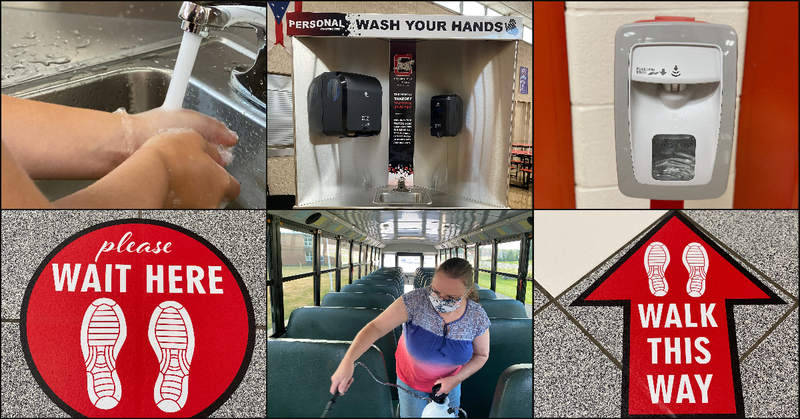 Photo collage of the new health and safety measures in place for student and staff safety.
Hand Sanitizer
Hand sanitizer will be readily available in the hallways for students and staff. All areas will be frequently cleaned and sanitized, especially high-touch areas. This includes classrooms when students come and go from specials, lunch, and recess. Supplies will be in each individual student's school supply box. If manipulatives or other resources are needed for specific activities, teachers will prepare individual baggies for students. Therefore, sharing supplies will be at a minimum and sanitized between each user.
Cleaning Solution
Each classroom will have a spray bottle of cleaning solution that can be used to clean an area after it's used.
Electrostatic Disinfectants
Custodians will use the Electrostatic Disinfectant Machines to clean buildings after hours. The machines will be used in every classroom and high touch areas. The machines will also be used to clean school buses.
Face Covering
As per the Ohio Governor's mandate, students in grades K-12 must wear a mask. As a result, students must wear a mask while on the bus and at school. Staff members will be required to wear a face mask while performing teaching duties. If your child has a unique circumstance which prevents the wearing of a face mask, please discuss your unique situation with your building principal.
Plexiglass and Dividers
Plexiglass will be in the cafeterias in order to keep students safe while they eat, as students will be permitted to remove face coverings for lunch. Social distancing will be enforced as much as possible during lunch. Individual desk dividers have also been ordered.